Should You Buy A Home or Rent For Another Year?
October 4, 2024
Hi, Home Buyer.
You can get mortgage rate alerts from us in real-time just for sharing this newsletter. Make two newsletter referrals and you'll get our exclusive real-time alerts for free. Send your friends this unique link >> << to subscribe and start getting credit today.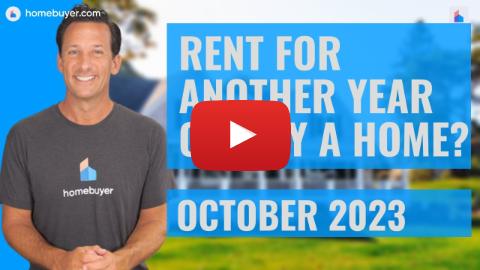 From the Homebuyer.com YouTube Channel
Home buyers, I feel you. It's weird out there.
Since two years ago, mortgage rates have jumped from 2.75% to near 8.00%, home values haven't stopped rising, and although Congress proposed more than a dozen programs for first-time home buyers, the only two respites from worsening home affordability have come from government agencies in the form of mortgage rate discounts and reduced mortgage insurance rates.
It could probably feel like a terrible time to buy a home - especially relative to when your home search started.
This month's "Is Now A Good Time To Buy A Home?" covers what home buyers are facing in today's hot market and tries to keep perspective.
The video covers:
Whether mortgage rates will drop soon

When home supply is expected to increase

The growing greed among U.S. home sellers
The video also touches on recent first-time buyer legislation and what Congress is doing to lessen the pain.
Give the video a watch and ask us your questions. Then, when you're ready to see how much home you can afford to buy at today's new rates, get pre-approved online, any time of day, at the Homebuyer.com website.
Happy homebuying,
Dan Green
NMLS #423065
See today's mortgage rates here
HOMEBUYER.COM STATISTIC OF THE DAY
Source: National Association of REALTORS®

Downpayment size among 2022 home buyers:
No-downpayment mortgage: 14%
Downpayment of 5% or less: 30%
Downpayment of 10% or less: 42%
Data represents purchase mortgage transactions for residential, owner-occupied properties. Data does not include cash purchases.
Find more interesting mortgage statistics at Mortgage Statistics For Research Projects & Home Buyers.
MORTGAGE RATE CALENDAR
Upcoming events that may change the direction of mortgage rates
October 5, 2023: Initial Jobless Claims
October 6, 2023: Non-Farm Payrolls
October 6, 2023: Unemployment Rate
October 6, 2023: Average Earnings
October 13, 2023: Consumer Sentiment

October 31, 2023: Federal Open Market Committee Meets

Subscribe to our YouTube channel for additional insight.
FIRST-TIME HOME BUYER PROGRAMS
Status of select first-time home buyer bills in Congress

The Downpayment Toward Equity Act
A cash grant up to $25,000 for first-time, first-generation home buyers.
- Last Action in Congress: June 21, 2023
- Status: Not yet passed
- Alternative Mortgages: Conventional 100, 100% USDA

The DASH Act
A $15,000 first-time home buyer tax credit.
- Last Action in Congress: March 7, 2023
- Status: Not yet passed
- Alternative Mortgages: HomeReady, HomePossible

The HELPER Act
A 100% mortgage for teachers & first responders.
- Last Action in Congress: May 10, 2023
- Status: Not yet passed
- Alternative Mortgages: Conventional 100, VA Mortgage

The LIFT Act
A mortgage that builds home equity faster.
- Last Action in Congress: June 22, 2023
- Status: Not yet passed
- Alternative Mortgages: None
The Middle Class Mortgage Insurance Premium Act
A bill to make mortgage insurance tax deductions permanent for homeowners earning less than $100,000/$200,000.
- Last Action in Congress: June 13, 2023
- Status: Not yet passed