Downpayment Requirements Lowered For Home Buyers
October 6, 2023
Hi, Home Buyer.
Get mortgage rate alerts from us in real-time just for sharing this newsletter. Make just TWO newsletter referrals and you'll get our exclusive real-time alerts for free. Send your friends this unique link >> << to subscribe and start getting credit today.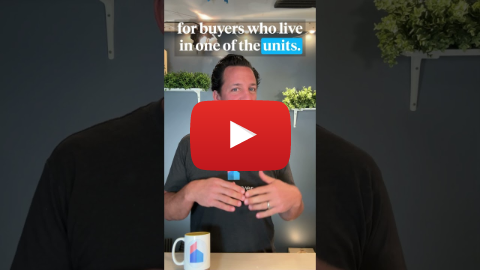 From the Homebuyer.com YouTube Channel
Fannie Mae is changing its mortgage approval rules.
Effective November 18, 2023, U.S. home buyers can purchase multi-units home with a minimum 5% downpayment. Fannie Mae's current mortgage rules call for a minimum fifteen percent down.
The new, lower downpayment standards apply to owner-occupied homes only and match the popular FHA mortgage multi-unit guidelines which allow for 3.5 percent down.

A multi-unit home is a home with 2, 3, or 4 habitable units.
In its official announcement, Fannie Mae notes that the down payment change applies across its complete menu of mortgages, including:
HomeReady for low- and moderate income buyers

HomeStyle Renovation for financing home improvements

Rate-and-term mortgage refinances
Buying a multi-unit property is one of 10 ways to make money with your home.

Enterprising homeowners can purchase a home, live in one of its units, and rent the others to offset monthly payments and build home equity faster.

The new down payment rules go into effect next month, but it's never too soon to pre-approve your multi-unit purchase and set your maximum price. Get pre-approved online in just 3 minutes at the Homebuyer.com website.
Happy homebuying,
Dan Green
NMLS #423065
See today's mortgage rates here
HOMEBUYER.COM STATISTIC OF THE DAY
Source: FFEIC

U.S. Counties With The Highest Percentage of Multi-Unit Home Sales Relative To All Home Sales, 2022:
Cook County, IL: 6.05%
Los Angeles County, CA: 3.22%
Kings County, NY: 2.85%
Queens County, NY: 2.82%
Essex County, NJ: 2.24%
Data represents purchase mortgage transactions for residential, owner-occupied properties of 2-4 units. Data does not include cash purchases.
Find more interesting mortgage statistics at Mortgage Statistics For Research Projects & Home Buyers.
MORTGAGE RATE CALENDAR
Upcoming events that may change the direction of mortgage rates
October 9, 2023: Markets Closed. No Mortgage Rate Changes.

October 11, 2023: Producer Price Index

October 12, 2023: Consumer Price Index

October 13, 2023: Consumer Sentiment
October 31, 2023: Federal Open Market Committee Meets

Subscribe to our YouTube channel for additional insight.
FIRST-TIME HOME BUYER PROGRAMS
Status of select first-time home buyer bills in Congress

The Downpayment Toward Equity Act
A cash grant up to $25,000 for first-time, first-generation home buyers.
- Last Action in Congress: June 21, 2023
- Status: Not yet passed
- Alternative Mortgages: Conventional 100, 100% USDA

The DASH Act
A $15,000 first-time home buyer tax credit.
- Last Action in Congress: March 7, 2023
- Status: Not yet passed
- Alternative Mortgages: HomeReady, HomePossible

The HELPER Act
A 100% mortgage for teachers & first responders.
- Last Action in Congress: May 10, 2023
- Status: Not yet passed
- Alternative Mortgages: Conventional 100, VA Mortgage

The LIFT Act
A mortgage that builds home equity faster.
- Last Action in Congress: June 22, 2023
- Status: Not yet passed
- Alternative Mortgages: None
The Middle Class Mortgage Insurance Premium Act
A bill to make mortgage insurance tax deductions permanent for homeowners earning less than $100,000/$200,000.
- Last Action in Congress: June 13, 2023
- Status: Not yet passed